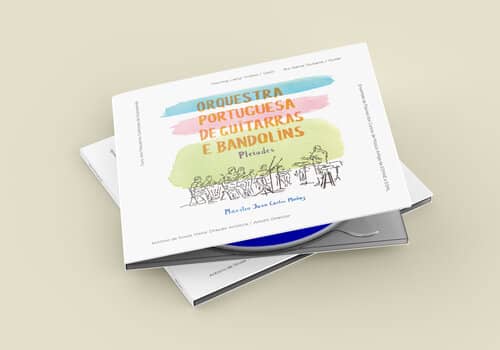 Orquestra Portuguesa de Guitarras e Bandolins | "Pleiades"
The production of this work was in charge of Associação Cultural de Plectro with the artistic direction of António de Sousa Vieira.
The recording, which took place in Casa das Artes do Porto between the 27th and 31st of May 2015, was conducted by Maestro Juan Carlos Muñoz, and also had the special participation of Haoxing Liang (violin soloist), Rui Gama (guitar soloist), Coro de Pequenos Cantores de Esposende and Flute Ensemble of the Early Music Courses at ESMAE and ESML (under the coordination of Pedro Sousa Silva). The direction of the work "Exsultate Deo" for Choir and Orchestra of Plectrum was directed by the titular Maestrina of the CPCE Helena Venda Lima.
Fernando C. Lapa | Canções do outro lado da rua | OPGB Integral para orquestra de guitarras e bandolins
In this CD "three different works, which I composed in recent years for a very unique and wonderful formation – the Orquestra Portuguesa de Guitarras e Bandolins (OPGB). They are the result of requests and commissions from the orchestra and illustrate three very different aspects of my composing craft: melodies from songs I wrote for very different moments; orchestral treatments of popular melodies, in a reiterated pleasure of a journey through the music of our roots; and even the most open and plural experience of registers, textures and sounds, in a construction that portrays my fascination with the unique sound of all these instruments."
Fernando C. Lapa, Composer
"The idea of ​​the Orquestra Portuguesa de Guitarras e Bandolins (OPGB) recording an album with only Portuguese authors was something that I aspired to since its foundation. The great achievement, which was the professionalization of OPGB, made it possible to make orders quite regular. From my admiration for the music of Professor Fernando Lapa, essentially the result of experience in choral groups, came the commission for Canções do outro lado da Rua for the premiere at the Centenary of the Porto Conservatory of Music. The OPGB's empathy with this piece led Professor Fernando Lapa, with his usual kindness and generosity, to continue to respond to my requests, which are now materialized on this record. Thanks, Professor Fernando C. Lapa!"
António de Sousa Vieira, Artistic Director